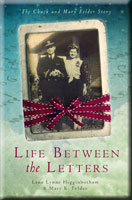 Visit the Journals tab for book signing information.
Life Between the Letters
Creative nonfiction set during WWII, co-authored with Mary K. Felder.
The world was at war when a junior-grade naval lieutenant first laid eyes on the love of his life. In December 1944, after his return from naval service in Europe, Lieutenant (jg) Charles E. Felder met Mary Kosko (Felder) in New York City. Although Mary was engaged to another and "Chuck" was preparing to deploy to the Pacific, the certainty of their destined connection made them willing to face any challenges that would come.
The unbreakable commitment of nineteen-year-old Mary and the surprising maturity of twenty-four-year-old Chuck are a testament to the "Greatest Generation," and hold lessons for this generation. With the entire country making sacrifices for the war effort, they found strength, resilience, and Life Between the Letters.
Order Today from Tate Publishing! (also available at Amazon, Barnes & Noble, and other online booksellers)
About My Co-Author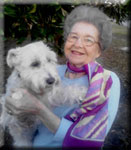 Mary K. Felder: Artist, Wife, Mother, and Homemaker; Mary was married to Charles "Chuck" Felder for over fifty-six years, until his death in 2001. She carefully saved the hundreds of letters they exchanged during WWII. After marrying Chuck on December 29, 1944, she only worked outside of the home during his time in the Pacific. Mary enjoys oil painting and taught private art lessons in their home. Chuck came to share her interest and discovered his own talent in putting oil to canvas. She also enjoys reading and interior decorating. Since Chuck passed away, Mary's constant companion is her white schnauzer, Kipper. Her three daughters and their families, including her grandchildren and one great-grandchild, enjoy their visits to her home in Louisiana.
---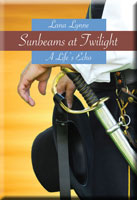 Sunbeams at Twilight
Lieutenant Edward Rigby could not deny the echo of his best friend's life as he traveled to Washington D.C. Others would consider his arrival a long delayed homecoming, but home is an illusion to him. The haze of events from the telegram bringing him to his friend's deathbed in 1869 seemed surreal. He could still see Hallie kneeling in the snow beside his friend's grave. It was now 1874 and time to move forward. Reconciling with his sister is his first priority.Then, there are promises to keep. 
Hallie Price Hawkins still felt and heard James everywhere. She was so proud of the achievements of the women taking refuge in the shelter of Hallie's House. James named the home for her as she was once a woman without many choices and because of her accomplishments. However, becoming his wife was the most unexpected and treasured. Losing him still devastated her heart. She was close to keeping all the final promises she made to him. Finishing the official nursing program in Boston would fulfill all but the last promise. 
Lana Lynne reunites readers with beloved characters from her first two novels, Home Always Beckons: A New Sunrise and Trails of Change: A New Sunset, and introduces an array of intricate new ones in the completion of her post-Civil War trilogy. This novel is a true tapestry of lives joined by the common thread of the life of James Hawkins woven throughout each.
Available on the Nook at Barnes & Noble, on the Kindle at Amazon.com, and in other formats at eBookIt.com
---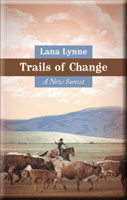 From Tate Publishing
Trails of Change
Boyd Richards has traveled endless paths since the end of the Civil War. In this sequel to Home Always Beckons, Lana Lynne reunites the reader with the most complex character from her first novel. Boyd has been sent by Shanghai Pierce to the Kennedy ranch to assist in a cattle drive to Kansas on Chisholm's trail. In the days before leaving on the dusty journey Boyd is intrigued by two very different women he meets: Lucy Kennedy, the daughter of his new boss, and Hallie Price, a soiled dove working in the town saloon. Lucy Kennedy, a spunky reporter, introduces Boyd to the town with an article in the local newspaper. Bitter from losing his wife and son while away at war and preferring to avoid attention, Boyd is none too happy at Lucy's actions and is relieved to leave before he gets to know either woman. The cattle drive yields encounters with many new people and challenges. These events trigger unexpected changes for Hallie Price and Lucy Kennedy. But the journey takes Boyd further than he ever expected to go when he encounters James Hawkins, who opens his heart to the Scriptures and his eyes to the challenges of others. Healing the wounds of the past, Boyd strives to build a new life. Lana Lynne's encouraging novel of redemption shows what can happen when one man pursues Trails of Change.
Available as paperback at: Amazon.com & Barnes & Noble
Available as eBook at: Amazon.com
---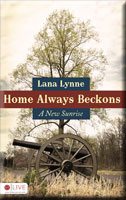 From Tate Publishing
Home Always Beckons
Home Always Beckons emerges in the shadow of a war's end as lives are rebuilt and the treasure of enduring love is found. Marcus Johnson and John Wilkins marched from Rockport, Arkansas, over five years ago to aid in resolving the war that divided the nation. Many friends and family members fought beside them. Some returned home, spent and broken. Others remained where they had fallen, leaving only memories for their families. John and Marc had made a rare choice. They would not make the return journey for a time. They had found solace after the war in work with Texas cattlemen. Now the devastation they discover in their home state further deepens the waters of guilt that engulf them as they ultimately travel home to Rockport. The Civil War had painfully reached the very doors of the family and friends they had left behind. Anger, forgiveness, betrayal, and love are waiting for them. Faces and names echo from the trees and farms. But when John and Marc discover romance in the surprising love of two sisters, A New Sunrise dawns.
Available as paperback at: Amazon.com & Barnes & Noble
Available as eBook at: Amazon.com
---